Project Background
The Town of Beech Mountain's current and only water source is a man-made reservoir, Buckeye Lake, on Buckeye Creek.  In 2015, the N.C. Division of Water Resources reported that the single water source doesn't meet the needs of the town and requested that the town explore and seek a secondary, supplemental water source. 
Much of the town's infrastructure dates from the late 60's and the town experiences significant water loss through leakage. The town has been aggressively enhancing the water distribution system, spending millions of dollars annually to replace mains, pipes, connectors and even building a $4.8 million new, state of the art water treatment plant.  The town is developing a series of wells to augment the single source of water, but access to additional water is needed, both to meet current needs and to prepare for future growth. 
Fire Chief and Town Manager Bob Pudney welcomes you to learn more about the Watauga River Intake Project.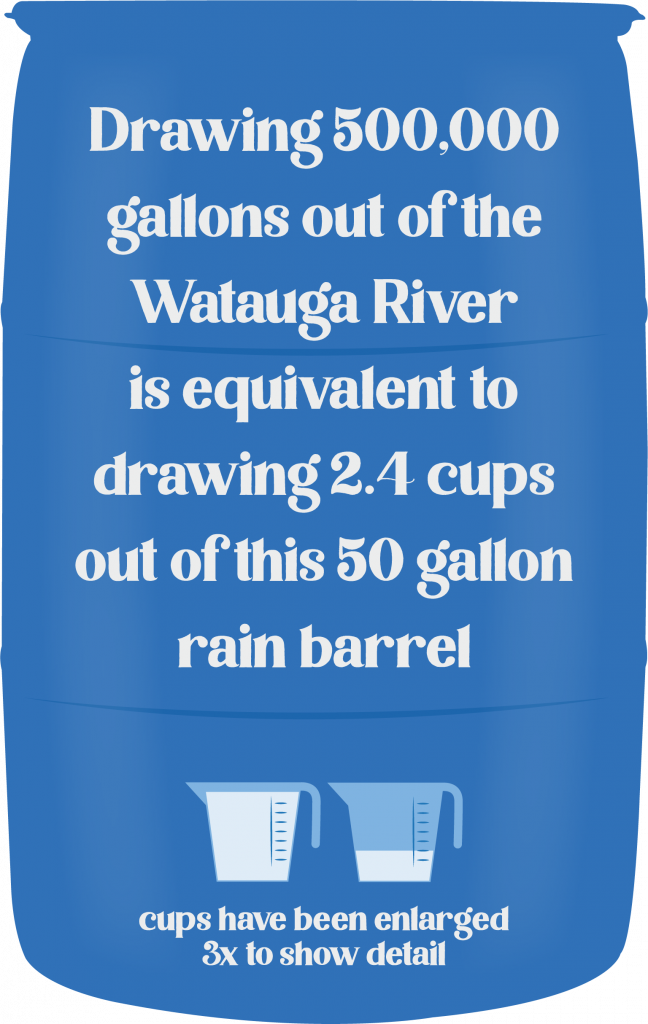 After years of studying alternative water supply solutions, the Town has made public its desire to pursue a water intake on the Watauga River, which lies about 5 miles from the town limits.  The draw from Watauga River would be very low volume and only used approximately 60 days a year during drought conditions or in case of catastrophic failure of the Town's current water system.  The Intake would only provide a supplemental, secondary source of water for the Town of Beech Mountain. It will draw up to 500,000 gallons per day on an as-needed basis. For a simple reference, this would equate to drawing 20 fluid ounces (approximately 2.4 cups*) out of a 50-gallon rain barrel.
On February 25 during a special meeting, the Beech Mountain Town Council gave unanimous approval to start the process of developing plans and submitting permit applications for a Watauga River intake project near Guy Ford Road.  Estimated cost of this supplemental water supply project is $16-18 million. This project is expected to take 5-7 years. 
Along with the urgent need to secure a secondary, supplemental water source comes the possibility for opportunity. Currently Beech Mountain is undertaking a massive water and sewer enhancement project.  We are also exploring the viability of ground wells. By focusing on rebuilding infrastructure, securing a supplemental source of water and promoting a strong conservation message, the Town has the ability to create a secure and sustainable water source for its residents and visitors.
* Withdrawing 500,000 gpd from the Watauga, which averages a daily flow of 158 MGD is .316%. Applying that percentage to a 50-gallon rain barrel yields 0.158 gallons or 20 ounces, about 2.4 cups.