Current Water System Status and Projects
Current Water System Status & Projects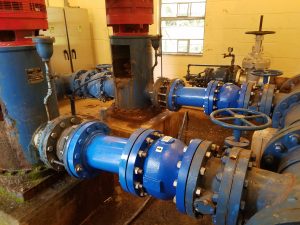 Based on the 2019 water audit, real water loss (leakage) is 59% of total water withdrawn from Buckeye Lake. Leaks in the water system are being addressed by gradually replacing all galvanized steel pipe and faulty service lines, but this will take many years since there are over 60 miles of these lines. Furthermore, the mountainous terrain causes high pressures which increase leakage rates. AWWA, American Water Works Association, estimates unavoidable real losses for systems like Beech Mountain's to be 0.120 MGD or 30-35% of daily use, due to the high pressure system design needed in the mountainous terrain.
Beech Mountain residents are careful with their water use and their use shows a commitment to conservation. Over the past three years, Beech Mountain residents have used an average of about 2,000 gallons of water per month per household. This amount is far below the North Carolina state average of 4,000 gallons per month for indoor use and the EPA estimate of 9,000 gallons per month for the United States as a whole.
A new $4.8 million dollar state of the art water treatment facility was completed in 2017. This facility uses innovative technologies to increase the efficiency of water treatment and the quality of water for town drinking use as well as providing tools to reduce process water necessary for the treatment of source water. Control systems included in the treatment facility also provide for operation and measurement of water pumping stations across the mountain to effectively monitor storage tanks and their usage. These technologies combine to provide efficient measurement of water use, automated notification of large system loss situations quickly, and pleasing drinking water provided to our citizens.
The Town of Beech Mountain is working hard to improve our water system and reduce system loss. Many factors including age, materials, pressure, soil acidity, and construction methods must be overcome to reduce the water loss. One of our main water system infrastructure issues is the widespread use of a mechanical joint which connects lengths of water pipe together every 20 feet. These joints installed 50 years ago feature a single bolt design which has been proven to exhibit extreme cases of deterioration and decay in the soil. As they rust away, they allow small amounts of water to leak by at every joint which increases over time until the eventual failure of the bolt resulting in pipe failure. This problem has been identified and we are working to replace these mains through large projects. Recently the town spent $1.6 million to replace approximately 2.5 miles of old mains during the Spruce Hollow Transmission Main Project.
Currently a $1.74 million project is underway to replace approximately 3.3 miles of old water mains and 142 service connections throughout the town. The Town's goal of updating infrastructure includes replacing 150 service lines per year. With over 2,200 service lines on Beech Mountain, this project will take at least 15-20 years.
As the Watauga River Intake project moves forward, Beech Mountain will amend its local water supply plan and also seek a TVA permit to request withdrawing 1 MGD of water from the River. This amount better reflects the actual need in times of drought or emergency. The Town's new state of the art water plant is also permitted for 1 MGD. In addition, the Town has completed and has ongoing water projects totaling over $10,000,000 to repair and replace leaking water mains and lines. These actions have enabled the Town's to revise its planned permit request for emergency water from the Watauga downward to a maximum of 1 MGD, although it is anticipated that only an average of 500,000 GPD would normally be needed. Beech Mountain is committed to making its water system as efficient as possible.
Conclusion
Although the town is committed to continually upgrading its water system infrastructure, it is important to note that the NC Division of Water Resources stated in their September 2015 report that the current water system supply is inadequate, and that fixing water loss, while important, will not be enough to ensure an adequate water supply for the town.